CERTIFIED DOT COMPLIANCE MANAGER®
Advanced DOT Compliance Manager Training - $2000
SCT LLC is now offering an opportunity for trained personnel to receive a professional designation as a Certified DOT Compliance Manager. The designation is a direct result of students attending the initial three-day manager training course and demanding more knowledge on DOT Compliance to further their education and opportunities in a career managing transportation safety programs. A second four-day class has been developed to deliver advanced training to students with the desire and determination to be the most knowledgeable safety managers for their companies.
The advanced course is an extension of Week 1 and will incorporate additional topics that a DOT Manager must be familiar with in order to effectively manage the full scope of an entire DOT Safety Program, including transportation of Hazardous Materials. Students will also be receiving the required training and equipment to become Qualified Commercial Vehicle Inspectors, therefore able to conduct annual inspections as covered in §396.17 for their companies. Students will also receive Qualified Brake Inspector Training, and perform the tasks of brake inspection and brake readjustment. 
This designation, along with the additional qualifications will help students become more competitive when seeking DOT positions. Personnel with professional designations earn higher salaries in service-driven industries, such as transportation, with a specialized skill set in DOT Compliance Management.

Students will be provided the following:
- Course PowerPoint Presentation Binder
- Hazardous Materials Regulations Handbook
- 2020 Emergency Response Guidebook
- HazMat Employee Training Material (Video & Exam)
- Guidance Flow Charts (HazMat Markings, Cargo Tanks & Testing Dates)
- SCT USB Drive (Guidance Documents, Course Videos)
- Level I Vehicle Inspection Diagram Guidebook
- Vehicle & Brake Inspection Tools (Tire Pressure Air Gauge, Tire Tread Depth Gauge, Welder's Chalk, Soapstone Holder, Ruler, Brake Lining Gauge)
- Qualified Vehicle Inspector / Brake Inspector / Brake Readjustment Certificate
- Certified DOT Compliance Manager Diploma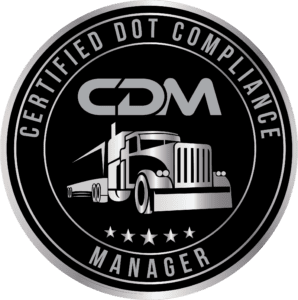 *Students must complete both weeks of DOT Compliance Manager Training and pass the final exam at the end of the second week to earn the CDM designation.
| 2023 Dates: | Course Location | Seats Available | Seats Reserved | Registered Student Name |
| --- | --- | --- | --- | --- |
2023 CERTIFIED DOT COMPLIANCE MANAGERS®
ADAM EREBIA - CORPUS CHRISTI, TX
ANTHONY RODRIQUEZ - MIDLAND, TX
ARODY MENDEZ - ODESSA, TX
CARLOS HERRERA - KATY, TX
CESAR GONZALEZ - DEL RIO, TX
JULIO LOBATO - MIDLAND, TX
KAILEIGH RODRIGUEZ - CORPUS CHRISTI, TX
KIP BALLENGER - CONROE, TX
MANUEL VEGA - ODESSA, TX
MATTHEW RAMOS - CORPUS CHRISTI, TX
LEO SALGADO - MIDLAND, TX
MARK RUSSELL - LUFKIN, TX
MIGUEL REYES - MIDLAND, TX
PERLA FRANCO - ODESSA, TX
RAFAEL ZURITA - NUEVO LAREDO, TAMAULIPAS, MEXICO
RAUL FRANCO - ODESSA, TX
RANDY VILLALPANDO - ODESSA, TX
RHONDA REED - MIDLAND, TX
RICARDO GONZALEZ - LAREDO, TX
RODRICK EVANS - MIDLAND, TX
ROLAND VASQUEZ - CORPUS CHRISTI, TX
SILVERIA MENDEZ - ALVIN, TX
STEPHEN BALTAZAR - MIDLAND, TX
STEVEN BRIDGES - RICHMOND, TX
TANYA FORBES - MIDLAND, TX
VIRGINIA POST - VICTORIA, TX